Antique Sleigh Rally

February 5

NEW for 2011!
Join us as Old Sturbridge Village hosts its first genuine New England Sleigh Rally.
Dozens of antique horse-drawn sleighs - many of them 80-120 years old -
will compete in a variety of categories including the popular "Sleigh Dog" and
"Currier & Ives" divisions. Sleighs participating will include Bob Sleighs,
Portland and Albany Cutters, Racing Sleighs, Freight Sleighs, and more.
Sleigh Facts:
Bob Sleighs have "Bobs," which are double runners that make them more
maneuverable and easy to turn sharply.
Sleigh bells were developed as a safety precaution. Because sleighs glide
so silently over the snow, the jingling sounds prevented collisions, especially in the dark.
The rally begins at 11 a.m. in the field near the gristmill.
Admission to the rally is included in regular admission ticket at no additional cost.
Other winter activities include ice skating, sledding on 1830s-style
sleds and horse-drawn sleigh rides around the Common.
Warm up by one of the many cozy fireplaces throughout the Village.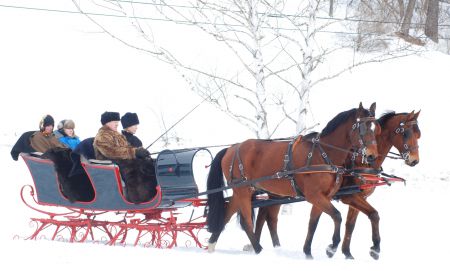 photo by Lisa Cenis
Antique Sleigh Rally Upcoming Dates
Saturday, February 5, 2011